Huddie Leadbelly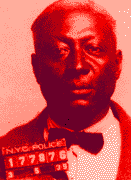 Huddie William Ledbetter
also known as
Leadbelly
, was born on January 1885 in the
Jeter Plantation
near Mooringsport, Louisiana. Huddie and his parents moved to Leigh, Texas when he was five and it was there that he became interested in music, encouraged by his uncle Terrell who bought Huddie his first musical instrument, an accordion.
It was some years later when Huddie picked up the guitar but by the age of 21 he had left home to wander around Texas and Louisiana trying to make his living as a musician. Over the next ten years Huddie wandered throughout the southwest eking out an existence by playing guitar when he could and working as a laborer when he had to.
In 1916 Huddie was in jail in Texas on assault charges when he escaped. He spent the next two years under the alias of Walter Boyd. But then after he killed a man in a fight he was convicted of murder and sentenced to thirty years of hard labor at Huntsville, Texas' Shaw State Prison Farm. After seven years he was released after begging pardon from the governor with a song.
But in 1930 he was arrested, tried, and convicted of attempted homicide. It was in the Louisiana State Penitentiary (Angola), in July 1933 that Huddie met folklorist
John Lomax
and his son
Alan
who were touring the south for the
Library of Congress
collecting unwritten ballads and folk songs using newly available recording technology. The Lomaxes had discovered that Southern prisons were among the best places to collect work songs, ballads, and spirituals but Leadbelly, as he now called himself, was a particular find.
Over the next few days the Lomaxes recorded hundreds of songs. When they returned in the summer of 1934 for more recordings Leadbelly told them of his pardon in Texas. As Alan Lomax tells it, "We agreed to make a record of his petition on the other side of one of his favorite ballads,
'Goodnight Irene'
. I took the record to Governor Allen on July 1. On August 1 Leadbelly got his pardon. On September 1 I was sitting in a hotel in Texas when I felt a tap on my shoulder. I looked up and there was Leadbelly with his guitar, his knife, and a sugar bag packed with all his earthly belongings. He said,
'Boss, you got me out of jail and now I've come to be your man'.

In 1935 Lomax took Leadbelly North where he became a sensation. Leadbelly remained Leadbelly. After hearing
Cab Calloway
sing in Harlem he announced that he could
"beat that man singin' every time".
Over the next 9 years Leadbelly's fame and success continued to increase until he fell ill while on a European Tour. He died on December 1949.
MP3:
Where Did You Sleep Last Night?