RL Burnside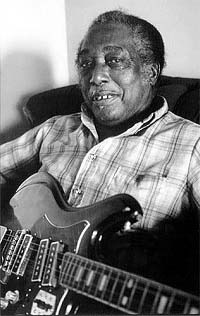 R. L. Burnside
was born Robert Lee Burnside, in
Harmontown
, Lafayette County, Mississippi, on November, 1926.
Burnside spent most of his life in the rural hill country of northern Mississippi, working as a sharecropper and a commercial fisherman, as well as playing guitar at weekend house parties. He was first inspired to pick up the guitar in his early twenties, after hearing the 1948
John Lee Hooker
single "Boogie Chillen". He learned music largely from
Mississippi Fred McDowell
, who lived nearby. He also cited his cousin-in-law,
Muddy Waters
, as an influence.
During the 1950s Burnside grew tired of sharecropping and moved to Chicago, Illinois in the hopes of finding better economic opportunities. But things did not turn out as he had hoped. Within the span of one month his father, brother, and uncle were all murdered in the city, a tragedy that Burnside would later draw upon in his work, particularly in his interpretation of
Skip James
's "Hard Time Killing Floor" and the talking blues "R.L.'s Story".
In around 1959 he left Chicago and went back to Mississippi to work the farms and raise a family. Burnside claimed to have been convicted for murder and sentenced to six months' incarceration for the crime. Burnside's boss at the time reputedly pulled strings to keep the murder sentence short, due to having need of Burnside's skills as a tractor driver. "I didn't mean to kill nobody," Burnside later said. "I just meant to shoot the sonofabitch in the head. Him dying was between him and the Lord."

Burnside had been in declining health since heart surgery in 1999, and died in a hospital in Memphis, Tennessee on September 1, 2005 at the age of 78.
MP3:
When My First Wife Left Me