T- Bone Walker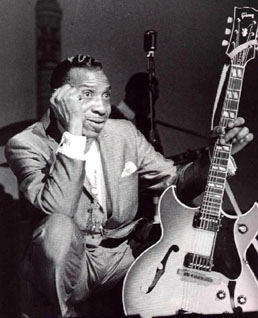 T-Bone Walker
was born
Aaron Thibeaux Walker
on may 1906 in
Linden
, Cass County, of Cherokee Indian descent. Aaron Thibeault Walker was a product of the primordial Dallas blues scene. His stepfather,
Marco Washington
, stroked the bass fiddle with the
Dallas String Band
, and T-Bone followed his stepdad's example by learning the rudiments of every stringed instrument he could lay his talented hands on. One notable visitor to the band's jam sessions was the legendary
Blind Lemon Jefferson
. During the early '20s, Walker led the sightless guitarist from bar to bar as the older man played for tips.
Walker received some early tuition from
Chuck Richardson
in Oklahoma City, learning his trade alongside another great player, the jazz guitarist
Charlie Christian
. During the 30s, he started to develop his own musical personality and veered towards big band jazz sophistication and away from the rural blues of his formative years. 1942 saw his first venture into the studio, recording amongst others two soon to be standards
'I Got A Break Baby'
and
'Mean Old World'
.
In the mid 40s T-Bone went back to the West Coast and recorded what many pundits consider are some of his best sides. He had tremendous support in these sessions from predominantly jazz players playing in a blues setting. The recordings showcased his ability to play anything, from straight blues
'Stormy Monday'
, shuffles
'T-Bone Shuffle'
, jives
'Hypin' Woman'
and jump blues
'T-Bone Jumps Again'
.
Good Feelin'
, a 1970 release, won a Grammy for the guitarist, though it doesn't rank with his best efforts. A five-song appearance on a 1973 set,
Very
Rare
, was also a disappointment. Persistent stomach woes and a 1974 stroke slowed Walker's career to a crawl, and he died in 1975.
MP3:
They Call It Stormy Monday