J.B. Lenoir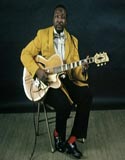 J. B. Lenoir
was born on March 1929 in
Monticello
, Mississippi. J.B. (that was his entire legal handle) fell under the spell of
Blind Lemon Jefferson
as a wee lad, thanks to his guitar-wielding dad.
Lightnin' Hopkins
and
Arthur Crudup
were also cited as early influences. Lenoir spent time in New Orleans where he worked with blues artists
Sonny Boy Williamson
, and
Elmore James
. In 1949, Lenoir moved to Chicago and began to perform at local clubs with blues greats
Memphis Minnie
,
Big Maceo
, and
Muddy Waters
.
J. B. Lenoir was known in the 50s for his particular zebra-patterned costumes and his brilliant female-like voice but he was a very influential musician and composer playing electric guitar. His band included
Sunnyland Slim
,
J. T. Brown
, and
Alfred Wallace
. In this period he wrote several blues standards including Don't Dog Your Woman, Mama Talk To Your Daughter, and Don't Touch My Head.
The Civil Rights and Free Speech movements in the U.S. in the 1960s prompted J. B. to record several LPs using acoustic guitar, sometimes accompanied by
Willie Dixon
on the acoustic bass or drums. His work at this time had an unusually direct political content relative to racism or Vietnam War issues. His "Alabama Blues", for example, included the lines:
I never will go back to Alabama, that is not the place for me/You know they killed my sister and my brother/and the whole world let them peoples go down there free.

Despite the angry lyrics of many of his songs, Lenoir sang in a disarmingly sweet, laid-back style, and he was widely known as an exceptionally friendly and gentle person. He befriended and encouraged many young blues artists both black and white. He died on April 29, 1967 from a heart attack related to injuries he suffered in a car accident three weeks earlier. His untimely death is lamented by
John Mayall
in the song, "Death of J. B. Lenoir". MP3:
Mama Talk To Your Daughter